Kitchen Exhaust Cleaning and Restaurant Hood Cleaning in Hershey, PA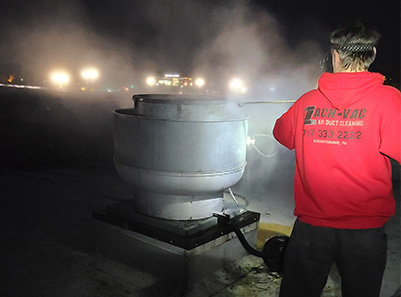 Do you need kitchen exhaust cleaning for your Hershey, PA home or business?
What does the National Fire Prevention Association check for when they inspect your kitchen? You might believe that they check the fire alarms and for visible fire hazards, and you're partially correct.
An essential part of the inspection process involves areas that we don't often see. The inspector will rate you on your:
Kitchen hood cleaning
Duct cleaning
Kitchen exhaust cleaning
If they find too much-accumulated grease in the ducts and fans, you'll receive a violation. They may even shut you down until you rectify the situation.
Why?
Nearly two-thirds of kitchen fires result from everyday cooking. You can often trace cases back to poorly cleaned kitchen hoods, ducts, and fans. The accumulated grease becomes super-heated during cooking and can easily catch alight.
Grease fires spread quickly, as they are difficult to extinguish. At ZACH-VAC Air Duct Cleaning, we recommend rigorous cleaning to prevent this issue.
Kitchen Hood Cleaning in Hershey, PA
What lurks in your ducts?
The kitchen hood filters perform an essential role. They prevent grease and other food particles from making their way into your exhaust fan and the duct system supporting it.
Unless regularly cleaned, kitchen filters can become a fire hazard. As dirt accumulates, it blocks the airflow into the duct, and as heat builds up, it causes the grease to reach its flashpoint.
In addition to the fire prevention benefits, restaurant hood cleaning also has health benefits. The food particles provide an excellent environment for bacterial growth. Removing grease properly and sanitizing the filter improves kitchen hygiene.
Restaurant Hood Cleaning and Kitchen Exhaust Cleaning in Hershey, Pennsylvania
Breathe healthier, cleaner air!
Kitchen exhaust cleaning and duct cleaning are essential for the health and safety standards of your restaurant. At ZACH-VAC Air Duct Cleaning, we're fully conversant with the codes and help you maintain the highest cleanliness standard.
We go beyond simply removing grease and cleaning your hood filters. We also use a small robot to inspect the exhaust vents and identify signs of damage. Members of our team are experts at kitchen exhaust and duct cleaning.
We use a combination of state-of-the-art tools and biological sanitization products to remove dirt and kill bacteria safely, making us Hershey's top choice.
Hershey, PA, is the original company town. Built by Milton S. Hershey, the candy magnate, in 1903, the town provided safe, comfortable accommodation for workers at the Hershey Factory.
Call ZACH-VAC Air Duct Cleaning at 717-333-2222 today for all your kitchen exhaust cleaning needs. With us at your side, you'll pass every test the fire prevention inspectors throw your way.