Air Duct Cleaning, HVAC Duct Cleaning, and Dryer Vent Cleaning in Hershey, PA
Professional duct cleaning services for Hershey, PA
Regular air duct cleaning is an essential part of maintaining good indoor air quality. For most home and business owners, the cleaning process is a tedious chore. Because they lack the proper equipment, the job is dirty, time-consuming, and frustrating.
Don't you have better things to do with your time?
Of course, you do! That's why ZACH-VAC Air Duct Cleaning provides a comprehensive air duct cleaning service. Our affordable cleaning process will clear your system in a fraction of the time it would take you.
We use state-of-the-art equipment for air conditioning and HVAC duct cleaning. Our team members use robots that can work their way through the length of the vents. Equipped with cameras, these tools allow us to identify:
Dust, dirt, and lint accumulation
Mold and other organic growth
Excess moisture and water damage
The robot is small enough to inspect every nook and cranny in your system. Its use revolutionized our cleaning process because the machine can access areas that we cannot reach.
Residential and Commercial Air Duct Cleaning in Hershey, PA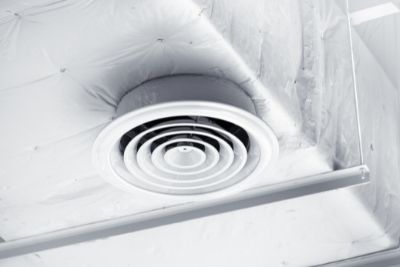 What lurks in your ducts?
Air duct cleaning in the home or a commercial setting is equally important. Air vents capture many particles that circulate in the air, including:
Dust
Construction residue
Dirt
Bacteria
Dead skin cells
Mold
Pet hair
Over time, these substances settle in the duct, only to be stirred up and recirculated when the system cycles again. If too much moisture is present, it creates the perfect environment for mold, bacteria, and mildew growth.
The accumulated dirt also traps condensation, and this may lead to water damage down the line.
A residential and commercial air duct cleaning schedule will keep your system cleaned and your family, employees, and visitors safe.
HVAC Duct and Dryer Vent Cleaning in Hershey, Pennsylvania
Improve your air quality and energy efficiency!
With dryer vent cleaning, water damage is the least of your concerns. Accumulated lint and hot air make for a combustible mixture, and dirt within an HVAC duct presents a similar dilemma in winter. With our affordable HVAC duct cleaning and dryer vent cleaning services, you can safeguard your assets.
Spend your leisure time playing at Hersheypark or catch the Hershey Bears in a game at Giant Center. Otherwise, stop and smell the roses at Hershey Gardens – Hershey has many fun activities to keep you busy.
Go and enjoy them instead of trying to clean your vents. Schedule your air duct cleaning service in Hershey, Pennsylvania, today! Call ZACH-VAC Air Duct Cleaning at 717-333-2222 to get your system cleaned and improve your indoor air quality.