Coil Cleaning for Hershey, PA
Do you need coil cleaning for your Hershey, PA home or business?
When you need professional evaporator coil cleaning in Hershey, PA, we are here to help! At ZACH-VAC Air Duct Cleaning, we thoroughly clean your HVAC's evaporator coils so your unit can remove heat and moisture more easily. With the goal of improving indoor air quality and the overall function of your unit, we keep your home or business clean and comfortable during all seasons of the year. Get in touch with us directly to learn more about professional coil cleaning for Hershey, PA and the surrounding areas.
Professional Coil Cleaning in Hershey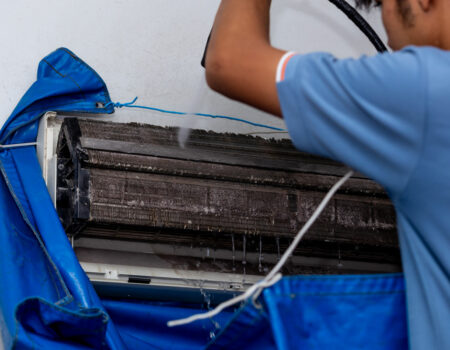 What lurks in your coils?
Cleaning your coils is essential to maintaining the optimal function of your HVAC unit. Not only does it prolong the life of your HVAC unit, but coil cleaning enables you to breathe easier and maintain a clean indoor air environment. While we recommend cleaning your coils once a year you may need to clean your coils more frequently if you notice these symptoms:
Strange Musty Odor– If you notice a musty or mildew odor then it is likely that your coils or ductwork have mold/mildew/fungus build-up.
Decreased Cooling Capacity– Dirty evaporator coils prevent your unit from working optimally. If you are not getting a blast of fresh cold air when your HVAC unit is turned on, then it is time for coil cleaning.
Ice on Evaporator– Grime on evaporator coils cause refrigerant temperature to drop and freeze. The presces of ice on your evaporator is a clear sign that your coils are filthy.
Best Coil Cleaning in Hershey, PA
Breathe healthier, cleaner air!
From the name alone you probably already recognize Hershey, PA as the chocolate capital of the US! Not only is Hershey where the first ever Hershey bar was created, but it is home to the famous Hersheypark, which draws in over 3.3 million visitors every year. But Hershey, PA is not just a great place to fill up on chocolate and ride some rides, Hershey is considered one of the best suburban areas to live in the state.
At ZACH-VAC Air Duct Cleaning we are proud to offer affordable and professional coil cleaning to Hershey, PA and the surrounding areas. Offering commercial and residential coil cleaning services, we help you maintain a clean, healthy, and fresh indoor air environment 365. Whether you are noticing strange smells when you turn on your HVAC unit, or it has just been a while since your last coil cleaning, we get in and get out with minimal interruption to your home or business. Contact us today to learn more about our professional coil cleaning services for Hershey, PA and the surrounding areas.