Commercial Dryer Vent Cleaning in Lancaster
A job for certified specialists!
Although many hang wet articles on outdoor clotheslines during 86-degree Lancaster summer highs, they'll heavily rely on a dryer once winter temperatures dip to 22 degrees. As a business owner, ensure your dryers are up to par year-round with commercial dryer vent cleaning in Lancaster, PA, and the surrounding areas.
Our licensed and insured ZACH-VAC Air Duct Cleaning team has over ten years of experience doing it all, from air duct cleanings to inspections and mold remediation. However, multi-unit dryer vent cleaning is our specialty, with our NADCA Certified Ventilation Inspectors and Certified Dryer Exhaust Technicians guaranteeing a job well done every time.
Multi-Unit Dryer Vent Cleaning in Lancaster, PA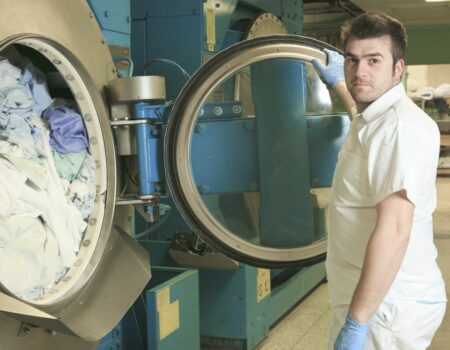 Should you clean your commercial dryer vents?
While professionals highly recommend using a lint trap and emptying it regularly, these in-line filters only capture up to 95% of contaminants. The rest clog the dryer ducts, restricting ventilation and trapping warmth and moisture indoors. Therefore, clothes remain wet; the machine becomes moist, and lint lines your dryer vent.
Clogs also allow buildups to promote higher allergen levels, reducing indoor air quality. A lack of commercial dryer vent cleaning in Lancaster and nearby areas also creates a fire hazard since the combustible lint sparks with heat during drying cycles. According to Consumer Reports, this accounts for about 27% of all estate fires.
We'll relieve these issues alongside unbearable humidity and higher energy costs that spike with longer drying cycles.
Commercial Dryer Vent Cleaning Company Serving Lancaster, Pennsylvania
As the original capital of Pennsylvania up until 1812, Lancaster is one of the oldest US inland cities. The area heavily embeds Amish communities and culture that promote a thriving tourist destination. Their history touches every part of the city, from The Lancaster County Quilts and Textile Museum to farmer's markets that sell Amish goods.
Breathe easy with our services for dryer vents! Whether you own a large hotel, college campus, nursing home, or small residential building, we provide gas and electric dryer vent cleaning services for all commercial properties. Our team inspects the dryer, exhaust pipe, and all connecting surfaces before thoroughly cleaning them with industrial-strength products. Then, we assess and review the outcome for optimal efficiency.
However, you don't need to live like the Amish to celebrate their lifestyle. So rather than do without a proper dryer, contact ZACH-VAC Air Duct Cleaning for commercial dryer vent cleaning and multi-unit dryer vent cleaning. Enjoy a free quote in Lancaster, PA, and the surrounding areas!